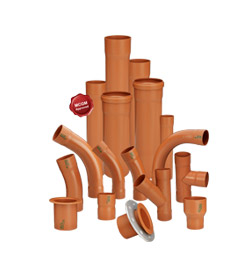 Jain Irrigation Systems Limited (JISL), has an unmatched and enviable performance track record as a Total Solution Provider for various thermoplastics piping systems such as for Agriculture, Water, Gas, Telecom, Utility, Sewerage, Chemicals, Industrial Effluents, Mining, Slurry, Coal ash, SWR, Sub soil drainage, Ground water tapping, Lift irrigation, Micro irrigation & sprinkler irrigation, Hand pumps, House service Connections etc.
We are the only manufacturer of 1600 mm dia HDPE pipe and its fittings in India . We have with us more than 9000 associates worldwide and revenue of more than 60 billion rupees with manufacturing plants in 28 locations across the globe, having network of more than 3000 Distributors & Dealers worldwide.
JISL from its noble range brings to you JAIN PVC Underground Drainage Systems. JAIN'S PVC UDS system is the ideal piping solution for all your Underground Drainage and Sewerage requirement in Residential and Commercial Colonies, Townships, Urban and Rural Sewerage transmission. Jains PVC UDS Piping system are manufactured as per major national & international standards and parameters.