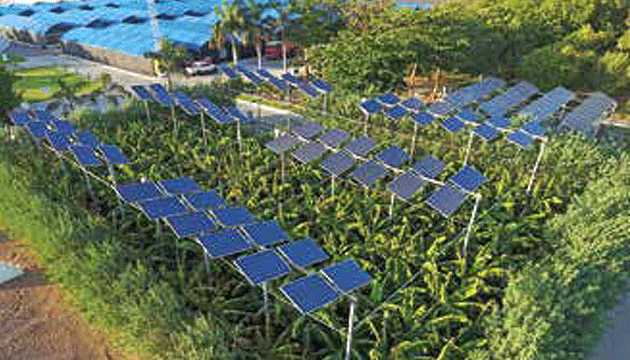 Agricultural pumps have more than 70% share among total water pump market. A solar pump is most suitable solution over conventional electrical and diesel agriculture pumps. In some cases, for installation of solar agriculture pumps, there is limited space available for installation of solar modules in field with shadow free area. In such cases, importance needs to given to both - agriculture as well as energy generation.
Jain Irrigation has innovated Agro-Voltaic concept for crop cultivation + generation of solar power within limited space using special structure. For designing of Agrovoltaic structure crop geometry , crop light requirement, installation requirement of solar module and space availability etc shall be studied in details.
JISL, being expert in agriculture, irrigation, water management and solar provides solution for customized sustainable Agro-Voltaic farming. The same concept of Agrovoltaic farming can be applied to large scale farming with grid connected plant.
Features and Specifications