Direct Tube ETC System Manifold type ETC system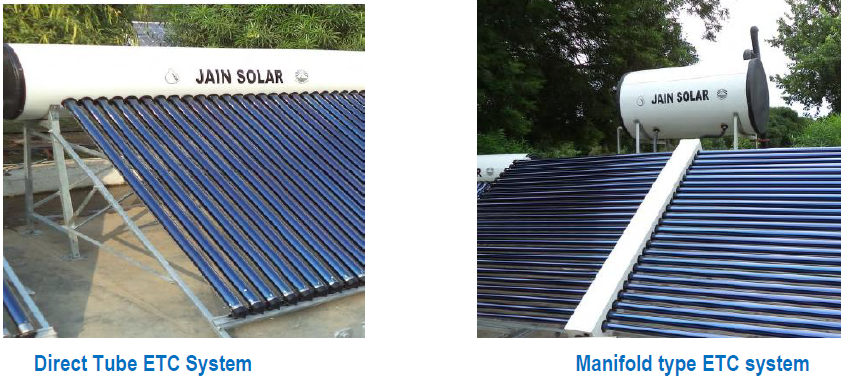 Evacuated Tube Collector
This is the heart of the solar system. Evacuated tubes are made up of borosilicate glass coated with AL-N/AL using sputtering technique. This is worlds latest innovative technique of black coating to achieve highest efficiency.
Insulated Hot Water Tank
Stainless Steel / Mild Steel hot water tank with outer cladding of G.I. precoated sheet, insulated with 50 mm thick PUF insulation. This ensures least overnight temperature drop.
Models
Jain SunLight: MS tank (with coating) and Direct tube ETC tank system upto 300 Litres tank capacity

Jain SunBright: SS (SS 304) tank and Direct tube ETC tank system upto 300 Litres tank capacity

Jain SunGlow: MS tank (with coating) and Manifold type ETC tank system for 375 – 2,500 Litres tank capacity

Jain SunRise: SS tank (SS 304) Manifold type ETC tank system for 375 – 2,500 Litres tank capacity